There are times when you come across messages, memes, videos or other information in WhatsApp conversations that you want to save for later use. You do have the option to star posts to bookmark specific posts and review them later. But the starred messages can quickly become cluttered and require you to revisit old chats. WhatsApp has long offered another solution for this, but it is hidden and not easily accessible to everyone. And now the messaging giant of Meta is making the "message yourself" feature available to all users, a useful addition to WhatsApp's arsenal of features. If you've noticed this new feature in the contacts window or want to learn an easy way to save notes, photos, or more, let me explain how to "message yourself" on WhatsApp.
How to Text Yourself on WhatsApp (2022)
In addition to the official method recently introduced by WhatsApp, we have also added a workaround to start a conversation with yourself in the messaging app. That said, let's dive right in.
Use the Message Yourself feature on WhatsApp
For WhatsApp power users, the Message feature itself isn't necessarily new. The ability to send messages to your own phone number via the WhatsApp URL link has been around for the longest time. But not everyone wants to use a URL to start using the feature, so the company has now integrated it into its messaging app. Here's how to find and use the Message Yourself feature in WhatsApp on iPhone and Android:
1. Open WhatsApp and click on the "New chat" button at the bottom right. In the contact list you will find your own phone number labeled "Message yourself".
Remark: You can tap your contact number to start the chat, but go to the next step and follow the process accordingly so you don't have to see your phone number in the chat window.
2. This is an optional step, but we recommend going to the "Contacts" app on your iPhone or Android phone. Then save your personal phone number on your device.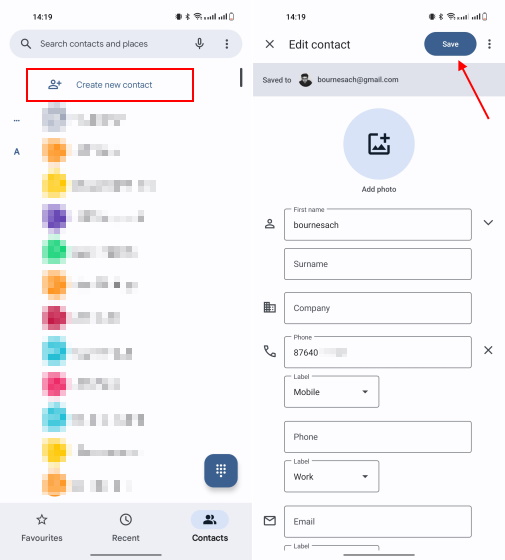 3. If you save your phone number, you will be show the name of the contact in the 'message yourself' chat making it easier to keep track of the same. You can now send text messages to yourself as reminders, to-do lists or share files across web and mobile using this chat window.
4. If you want to keep photos or videos, just tap the "forward" button next to the media in a chat window. Then select the "message itself" chat from the contact list in WhatsApp.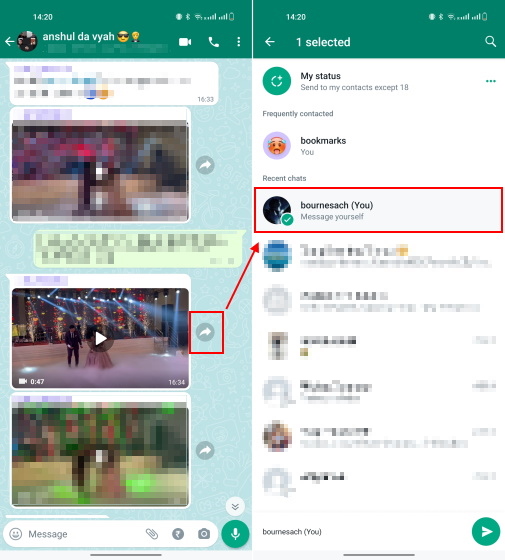 5. And there you have it! As you can see here, I used the "message yourself" chat to share screenshots for articles with myself. I can then access them via WhatsApp Web. I even share important ideas, meeting minutes, and other important information in this chat window. You can even send voice memos to yourself in this chat.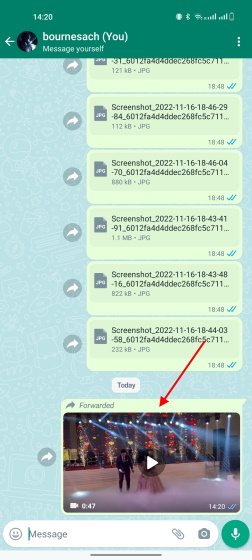 Create a Solo WhatsApp group to message yourself
While the message itself is rolling out to all WhatsApp users around the world, you can use this workaround to create a bookmarked chat in the Messages app. This is a well-known hack that many people have been using for years, so let's take a look:
First tap the "New conversation" button at the bottom right and then select the "New group" option on the next page.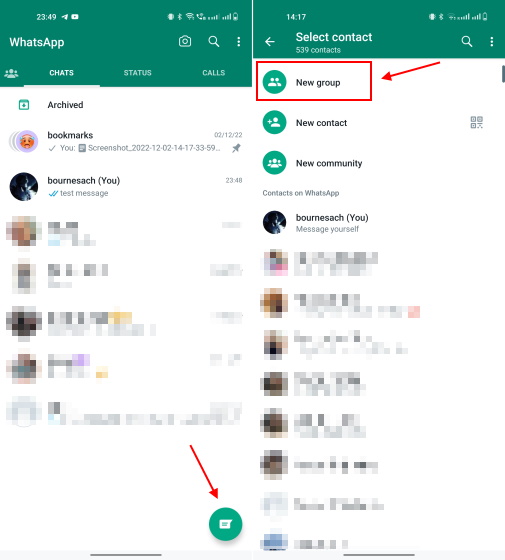 2. Now add one person to this new group you are creating. It can be anyone, a close friend or your secondary number. Next, give the group a name (I called my saved messages group because I use it for highlighting texts, photos, and videos) and tap the "finch" button at the bottom right.
3. Once your group is created, tap the name of the group at the top to visit the settings page. You will find a list of participants on the group settings page. Here, long press on the name of the second participant except for you.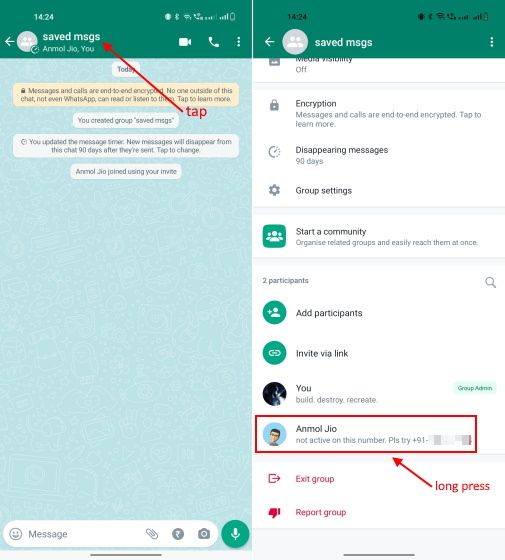 4. Then tap on the "remove [participant name]option in the context menu that appears when you long-press the name. Then tap "Okay" in the pop-up window to confirm your action.
5. As you can see in the screenshots below, you are now the only participant in this chat. You can use this WhatsApp group chat without other members to message yourself, save memes, videos and more.
I mainly use the bookmark group to share photos, videos and other important things over the web and mobile using WhatsApp. I can share a photo on WhatsApp from my phone and download it on a computer running WhatsApp Web. Pretty handy right?
Frequently asked questions about WhatsApp messages to yourself
Can you text yourself in WhatsApp?
Yes, you can easily text yourself in WhatsApp with the new "Message Yourself" feature introduced in November 2022. It allows you to start a 1:1 conversation with yourself to save messages, photos/videos and more.
What happens when you message yourself on WhatsApp?
The new Message Yourself feature introduced by WhatsApp creates a 1:1 chat with the user and lets them send texts, create lists, set reminders and save important information. WhatsApp says you can use the "message yourself" chat windows to send yourself voice notes, photos, videos, and other content for safekeeping.
Message yourself to save texts on WhatsApp
So yes, that's all you need to know about the "Message Yourself" chat feature added to WhatsApp. It gives you a dedicated space to store your texts, photos and videos, just like the saved messages section in most others messaging apps like Telegram, Slack and more. It's easy to use and provides a way to securely write down ideas, upcoming tasks, and important content. All content in Message Yourself chats is also searchable so you can find things easily. Plus, while you're here, learn how WhatsApp communities compare to groups or how to use whatsapp on multiple devices. That said, how do you use WhatsApp's message itself feature? Tell us in the comments below.