The Asus Vivobook Pro 16X OLED is nothing new to me. Earlier this year I reviewed the 11th Gen Intel model and it's more or less the same except for the added 12th Gen Intel CPU. It also comes with an RTX 3060 instead of the other model's RTX 3050. So overall there are some nice internal improvements to this newer model, but overall much of the experience remains the same. That's actually not a bad thing, because the original Vivobook 16X I reviewed was already such a great notebook, so why change things that don't need to be changed?
Check out the ASUS Vivobook Pro 16X OLED Review below
You can also get this notebook in a Ryzen variant, but this exact model is the N7601Z which comes with an Intel CPU and the NVIDIA RTX 3070 Ti. This notebook is aimed at creators who want a screen with accurate colors, great performance for design and video work, and a lightweight device that you can take anywhere. The ASUS Vivobook 16X OLED ticks all these boxes and will cost you R34,999 in SA.
In essence, this notebook does much more than just show beautiful things on a beautiful OLED screen. You could also get away with some impressive gaming benchmarks while you're at it, making this piece of tech incredibly versatile at the same time. The full specifications of this notebook include the following:
Operating system
Windows 11
Screen size (display)
16.0 inches
Maximum resolution
4K (3840 x 2400) OLED 16:10 aspect ratio /

processor
Intel® Core™ i7
Processor speed
Intel®Core™ i7-12650H processor 2.3 GHz (24M cache, up to 4.7 GHz, 10 cores)
processor
Intel® Core™ i7
GPU
NVIDIA® GeForce RTX™ 3060 Laptop GPU / up to RTX 3070 Ti
Colour
Silver
Storage
1TB M.2 NVMe™ PCIe® 3.0 SSD
Storage area
1TB M.2 NVMe™ PCIe® 3.0 SSD
Memory
16 GB DDR5 on board
I/O ports
1x USB 3.2 Gen 1 Type-A

1x USB 3.2 Gen 2 Type-A

1x USB 3.2 Gen 2 Type-C support display / power supply

1x Thunderbolt™ 4 Support Display/Power\n1x HDMI 2.1 FRL

Camera
1080p FHD camera\nWith privacy shutter
Audio
Smart Amp technology

Built-in speaker

Built-in array microphone\harman/kardon (mainstream)

Functions
1x 3.5mm combo audio jack

1x RJ45 Gigabit Ethernet

1x DC-in\nMicro SD Express 7.1 card reader
Asus Vivobook Pro 16X OLED Unboxing
Inside the box you will find the notebook itself, some instructions and some cool stickers. You can stick these on the notebook if you're crazy enough to mess up the scale. It's your device so do what you want with it. The box itself is also eco-friendly and made from recycled paper and printed with eco-friendly ink. You also get a hefty 240W power adapter in the box next to the power cord.
Asus Vivobook Pro 16X OLED design
Of course, as the name suggests, this is a 16-inch OLED notebook and has a lightweight and sleek design. It is only 2.3 kg. This is probably the closest a Windows user can get to the simplistic sophistication that Mac users enjoy with the MacBook Pro range. It's fully coated in magnesium alloy, has no outside lights and nicely placed ports, and the screen is the main activity here.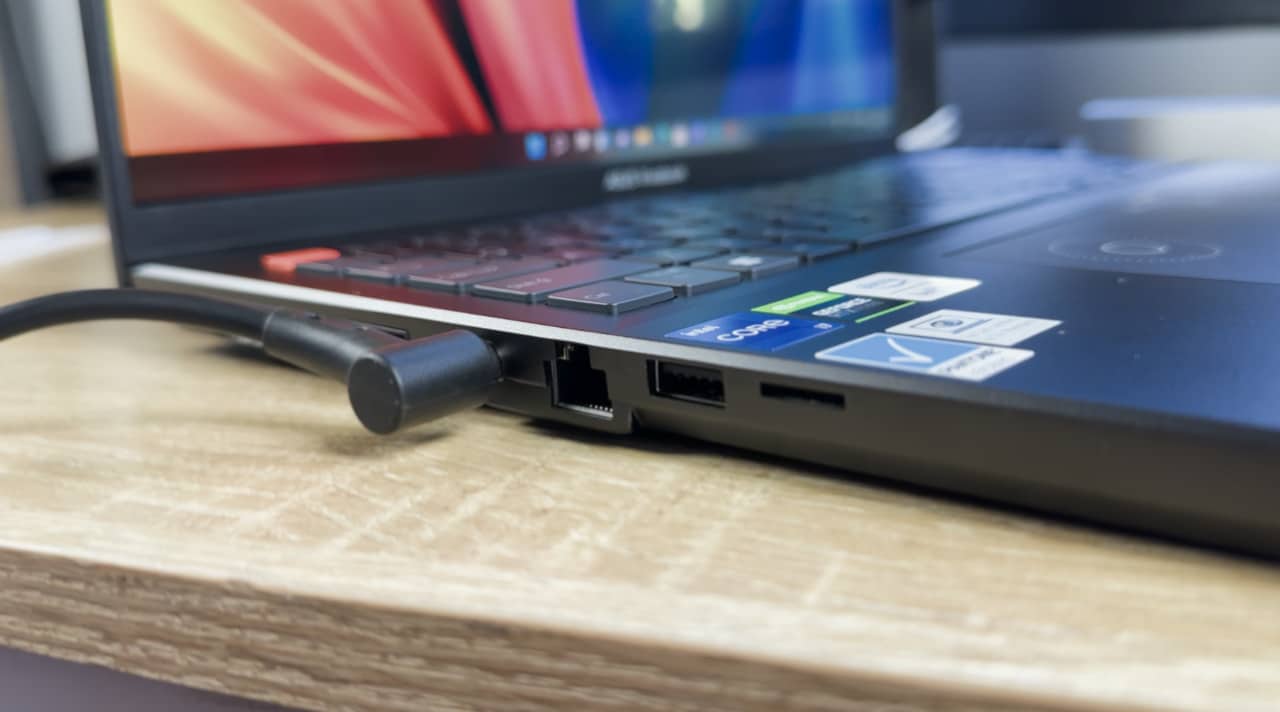 The screen is 2300 x 2000 and 120Hz. This means it's a 3.2K OLED and thanks to the panel it also checks all color accuracy certifications. It has a DCI-P3 color gamut, is VESA certified and is Pantone validated. If you know what all that means, you'll probably be grinning by now. If you don't, know that this panel is extremely accurate and great for design work. It also hits 550 nits of peak brightness, which is great for an OLED panel.
There's nothing really wow about the design of this Asus Vivobook Pro 16X OLED. The underside has some nice cooling vents and there are some bright orange finishes over the notebook that stick out. There is a strip underneath and the escape button has the same function. You will also notice that the Enter key has a ribbed design with the white areas slightly raised.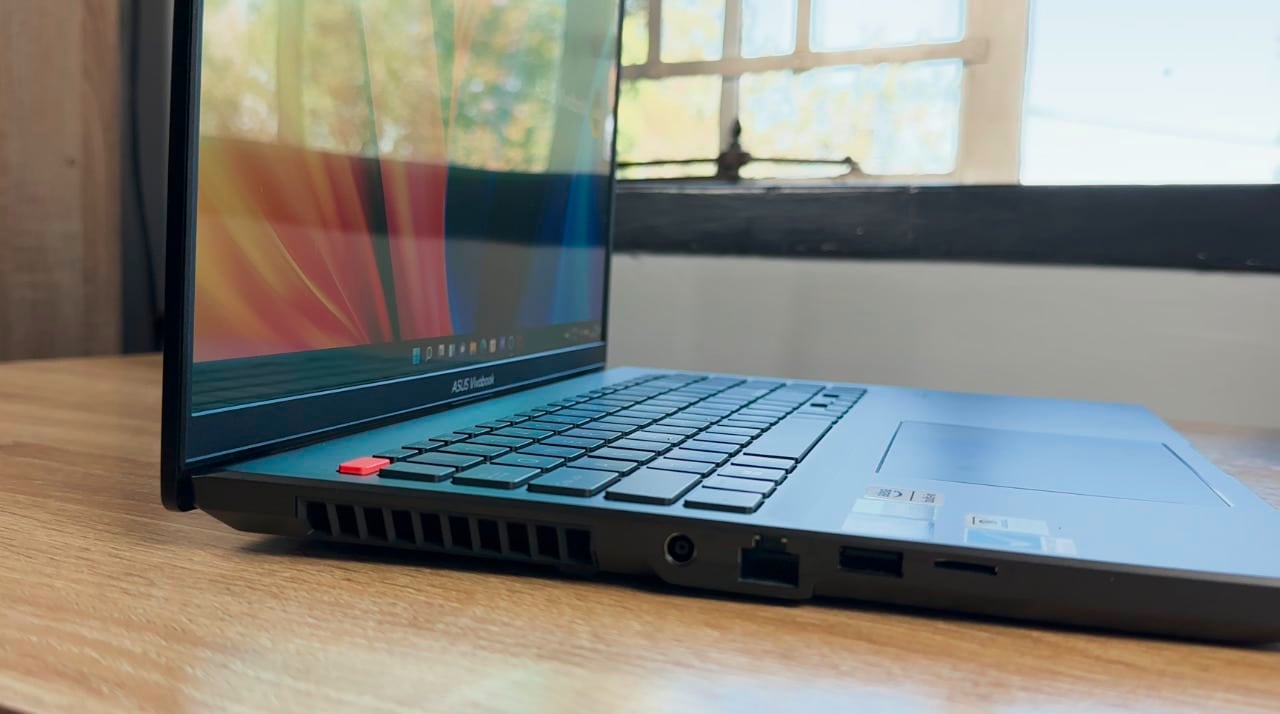 Speaking of the keyboard, it's a full-size chiclet keyboard with 1.35mm travel. The keyboard has three brightness levels. My only complaint was how small the arrow keys were. There's room around them, so just make them bigger.
As for the ports, on the left side you will find the Gigabit Ethernet port, DC-in, Micro SD Card Express 2.1 slot and 1 USB 3.2 Gen 1 Type-A port. On the right side, you'll find the 3.5mm audio jack combo port, HDMI 2.1 port, one Thunderbolt 4 port, and one USB 3.2 Gen 2 Type-C port. Both ports support power and display.
The notebook also includes the ASUS Dial on the giant touchpad. It turns on and off by simply swiping down from the top right corner. I've covered the ASUS Dial in countless videos in the past. It's a nifty piece of technology that allows users to assign different shortcuts to the ring from different apps and settings. You can easily turn the volume up and down, increase the screen brightness, or dive deeper into Photoshop and other design shortcuts. For example, it can be used to increase a brush size, hide layers, paste things, select different tools, and more. There really is no limit to what you can do with this watch face.
Overall, the design of the Asus Vivobook Pro 16X OLED is effective. The orange finishes were probably the only thing I was scratching my head about, because they really stand out a lot on this notebook. I should also mention that unlike most ASUS notebooks, this one doesn't have an ergo lift, so the screen doesn't lift the back of the notebook when you open it.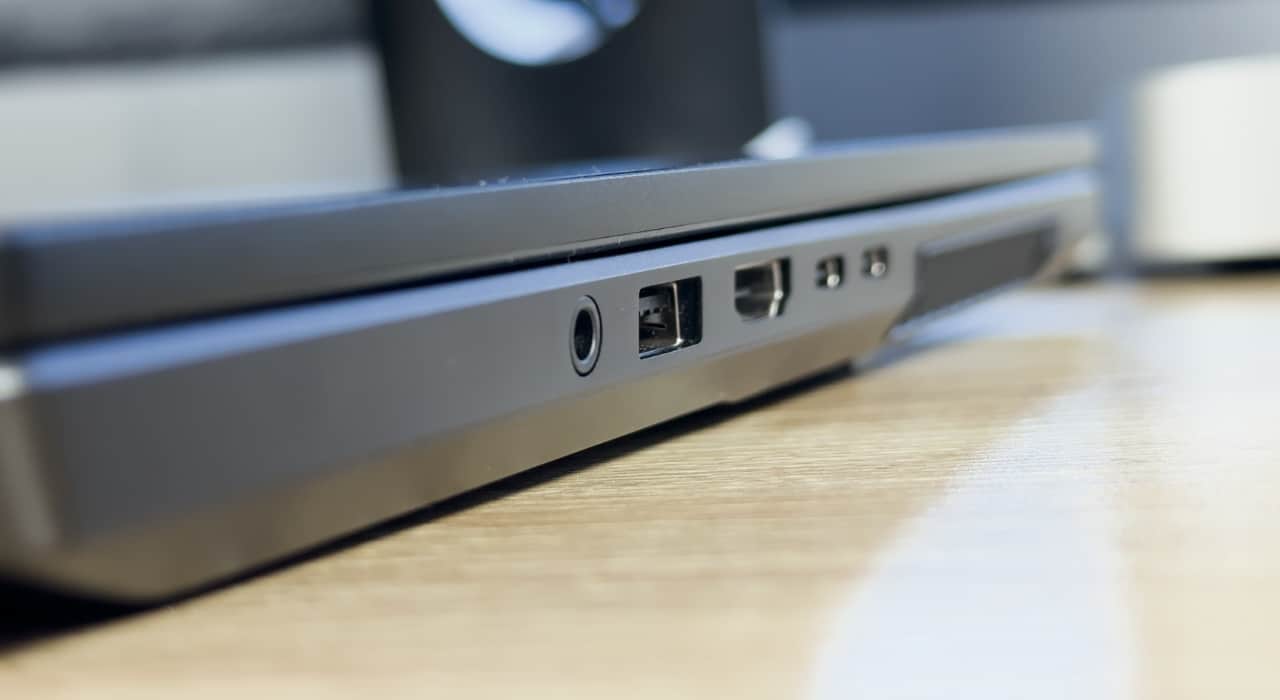 I also liked the webcam shutter that let me slide it open and closed when not in use. This kind of feature is great for those who are paranoid about their safety and also just nice to have in case you accidentally turn your camera on.
Asus Vivobook Pro 16X OLED performance
When it comes to the performance of the Asus Vivobook Pro 16X OLED, this notebook does not disappoint. The included 12th Gen 12650H CPU and RTX 3060 are a great combination. There are also some incredibly fast transfer speeds on this device's slots. The Micro SD slot is the latest, which means it is ten times faster than original SD readers at up to 985 MB/s. The Thunderbolt 4 port and Ethernet port are also the latest, meaning everything you do here is faster than ever.
I ran some benchmarks to put all this to the test and got the following scores. I've done performance benchmarks as well as some gaming benchmarks so you can see what's possible on the notebook.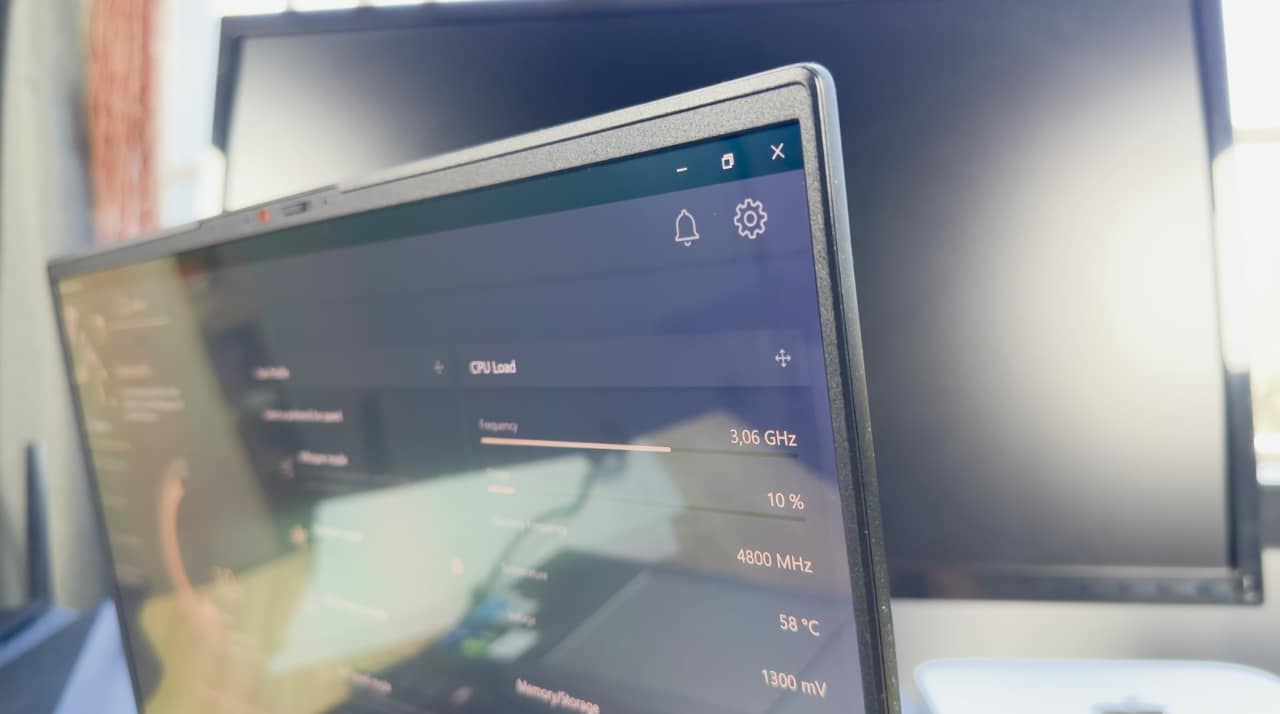 Performance
Geek Bench

Single core – 1721
Multicore – 11271

Cinebench

Single core – 1795
Multicore – 14280
Gaming
3DMark Fire Attack 4K – 28091
Cyberpunk 2077

Ultra HD – 76 fps
Ultra4K – 22 fps

Dying light 2

High HD – 70 fps
High 4K 26fps

God of war

High HD – 85 fps
High 4K – 30 fps

Back 4 Blood

Ultra HD – 160 fps
Ultra4K – 61 fps

Far cry 6

High HD – 92 fps
High 4K – 35 fps
You can see from the tests that this notebook has impressive power. Not only does it get your performance-intensive tasks done, but you can also play games on it at the same time. During tests, the device also managed to stay cool, with most of the notebook staying at around 40C. This increased slightly until the mid 40's when I was playing heavier graphics games.
The fans were fine too, peaking at 48dB during gameplay. In average use, they hovered around 30 dB, which is fairly quiet for general use. As for the speaker, they are fine. They have some power and offer a decent listening experience, but don't expect anything great from this notebook speaker set. The sound was loud, rich and clear, but nothing magical.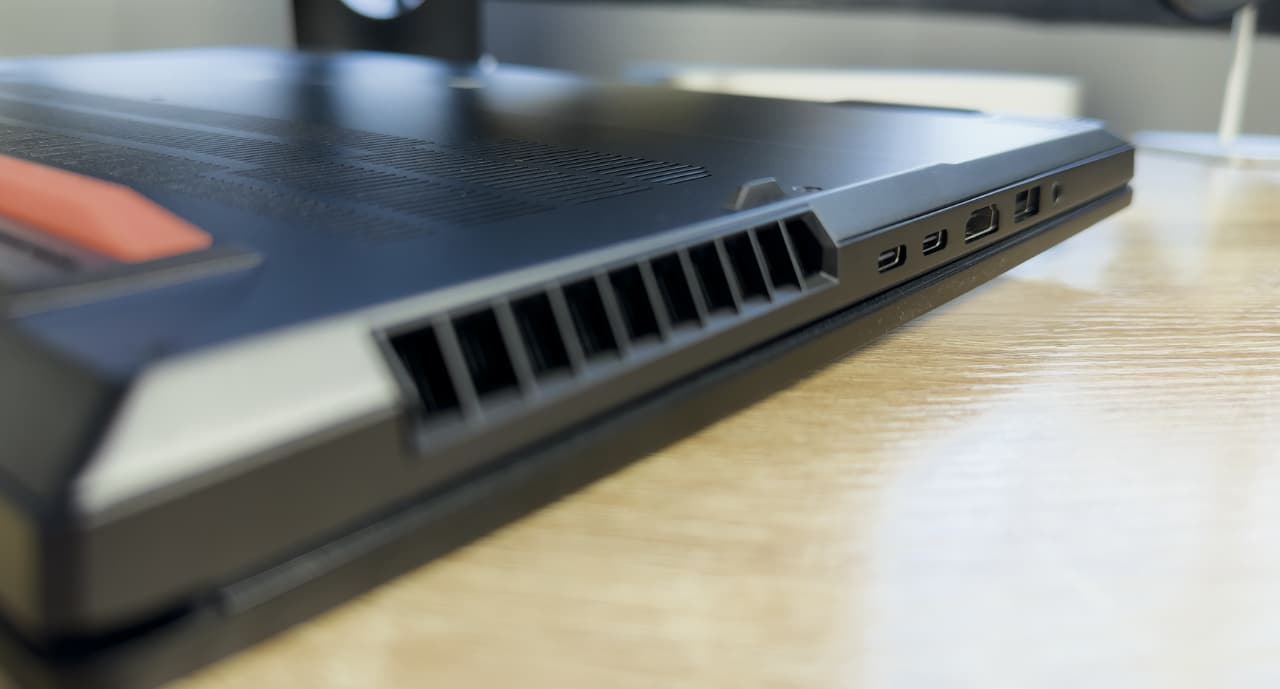 Finally, the battery. This notebook has a 90Wh cell and you'll probably get about 8 hours of normal use out of it if you're not gaming, viewing content and have the screen brightness at around 60%. Anything more, and it will die faster. However, I did see the notebook last up to 10 hours when I was just on YouTube with the Edge browser. In short, this is a good battery.
Overall, the ASUS Vivobook 16X OLED is a great machine. It stands out thanks to its fantastic OLED display and solid internals. R35,000 is a lot to ask, but the performance here isn't bad for the asking price. It's a decent notebook for designers, business people, and is even better for those who like to jump into a game every now and then.
This ASUS Vivobook review was based on a unit sent to us by ASUS. Read more about it and pick it up here.
ASUS Vivobook 16X OLED

Design –

9/10

Performance –

9/10

Where the –

9/10
Overview
The ASUS Vivobook 16X OLED Intel 12th Gen model offers decent performance and a stunning display, making it a great option if you're looking for a creator book.
Advantages
Great OLED panel
Sleek design
Good performance
cons
Those orange finishes…
Speakers are meh